Sebastian Heilpern
Sebastian is generally interested in using a trait-based approach to understand and predict how changes in fish biodiversity might influence ecosystem services in the Amazonian watersheds. Fishes are often times the primary protein source for many amazonian people and a developing project is to investigate how multiple services associated with ecosystem properties (e.g., biogeochemisty) and human well-being (e.g., protein and micronutrient availability) derived from fishes may be affected by land-use policy and dam development. He is also particularly interested in making science relevant to policy, especially for the goal of reconciling conservation and development. Sebastian's primary advisor is Shahid Naeem in the department of E3B.
Email
s.heilpern@columbia.edu
Download CV
Amrita Neelakantan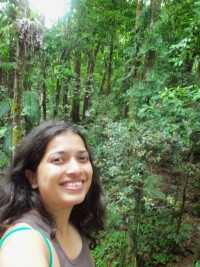 Amrita carried out her PhD on the resettlement of people from national parks. Her research focuses on human well-being, livelihood strategies and impacts on natural resources once forest dwellers have relocated outside protected areas. She explores patterns of forest resource use and food security at the landscape level. Her study is based around Kanha national park in the central Indian highlands. Her research was recently featured on the Earth Institute blog and she's part of the Network for Conserving Central India.
Email
an2601@columbia.edu
Download CV